I've been scouring catalogs and Ebay and Froogle looking for good gifts for those I'm buying for this season, and while I've been looking, I've decided to catalog a few of the things I think are cool.
1) Cordless Lighted Lap Desk
Ok, maybe I don't do a lot of work in bed, but it looks like this would be a good way to start, as long as it's combined with this :
2) The Lighted Massaging Lounger –"This lounger makes reading or watching television more relaxing because it provides soothing massage and heated, supportive foam cushioning to cradle the body in a relaxed, upright position thus alleviating tension." Sounds good to me.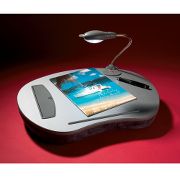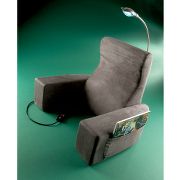 3) Digital Binoculars – I don't know why I want these, but I know I always have. And now that I actually have a view from my office window, I like the idea even more.
4) Here's the geek part of me coming through: Space Age Ant Habitat. Seriously. It looks like something that could be a lot of fun to watch. With the kid. Yeah, that's it. And to round out the gift — and get rid of any extra ants, how about a Desktop Carnivorous Plant Set. Oh yeah, and a USB Microscope to get up close and personal pictures of both.
5) Lee Valley has some cool stuff I wouldn't mind too, like a cut flower aquarium and a microwave flower press and companion book.
6) Heck, I saw this on Ebay, and the look of the property is cute, even if I don't know where Sombra is. If someone's feeling particularly generous, I wouldn't refuse it.